MEMBER
of the POD
Homebrewing
A coworker of mine got me into homebrewing back in July, 1997 and it's been a non-stop adventure ever since. I started out using malt extract kits (liquid or dry condensed malt sugars that are ready to be reconstituted and made into beer). The kits offer the beginning brewer a relatively inexpensive and easy way to make good beer. It is just like cooking from a recipe.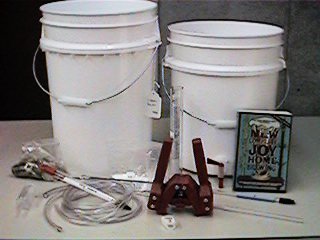 To get started brewing, you are going to need some equipment. Starter kits range in price from $40 to $100. A beginners kit will look something like this. It comes with a 6.5 gallon bucket for fermenting, an airlock to let carbon dioxide to escape while keeping contaminants out, a second bucket with a spigot for bottling the beer, sanitizer, a twin lever capper, siphon hose, racking cane and a bottle filler to transfer the beer and fill the bottles. Some kits come with ingredients for your first batch too. What you will not get with most kits is a pot to boil the wort (water, malt and hops that are not yet beer) and bottles. You can pick up a large pot at a kitchen or department store, stainless steel is best but some people use porcelain covered canning pots. You will be boiling up to 3 gallons so you need at least a 4 gallon pot. The bottles can be scrounged or bought but you can only use bottles that are not twist-offs. You will need at least 2.5 cases of 12 oz bottles for a standard 5 gallon batch.
After you have the equipment, you are ready to make the beer. The fresher your ingredients, the better the beer will be, so I suggest you skip the prehopped can kits and use fresh hops. There are many boxed kits that come with fresh hops, specialty grains, canned and dry malt extract and caps. Some homebrew suppliers on the net even put together their own recipe kits.
If you are really interested in home brewing, check and see if there are any homebrew supply stores in your local area. If there is one, stop in and say hi. I am sure they will be happy to show you around and talk to you about the hobby, especially since you will be a potential customer. I also suggest you buy, or borrow from a library, a copy of Charlie Papazian's book, The New Complete Joy of Home Brewing. It is a really easy read and full of great information. With a $40 starter kit, the pot, buying the bottles and the ingredients it is going to cost about $100 for the first batch. After that, it will be around $20 make a batch (2 1/2 cases). Not a bad cost if you figure a six pack of micro brew can be $6 or more a 6-pack that is $24 a case.
Recently, I made the leap from extract brewing to using whole grains. I didn't just leap, I took a headlong plunge. I built a RIMS (Recirculation Infusion Mashing System). Its quite a setup. Check it out on my all grain page. Over the first year, I also bought a used refrigerator to make lager beer. Changed my mind midstream and put three taps on the door and converted it into a keg fridge. I can put four 5 gallon soda kegs in it for beer and homemade soda as an alternative to bottling. My chest freezer was taken over for lagering (Used to use it for freezer space but now I use the top of the keg fridge for freezer space.)
If you are interested in brewing your own, or already brew your own beer, drop me an e-mail. I love to talk brewing with most anyone. If you have ICQ, you can contact me that way too. My ICQ # is 3304282.